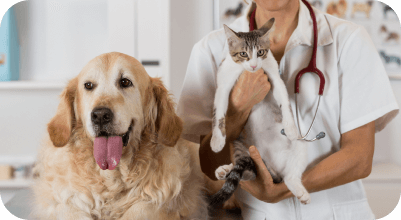 Orthopedics
Is your pet slowing down or limping? Or has he had an unexpected injury like a fracture or dislocation? Sometimes even hereditary joint conditions can require orthopedic repair.
The good news is, we are one of the few veterinary clinics in our area that offers cutting-edge care for a variety of orthopedic conditions. Our surgeons have the training and specialized equipment to fix broken bones, torn ligaments, and conditions like hip and elbow dysplasia.
Tibial Plateau Leveling Osteotomy
It's extremely common for dogs to rupture their cranial cruciate ligament, or CCL. The only way to permanently control the resulting instability in the knee joint is with surgery. A tibial plateau leveling osteotomy (TPLO) helps dogs recover faster, develop less joint arthritis, and to return to better functional levels than with other surgical techniques.
Learn more about ACL Surgeries here!
Could your pet benefit from an orthopedic consultation with one of our surgeons? Call us at (307) 684-2851 to schedule a consultation.