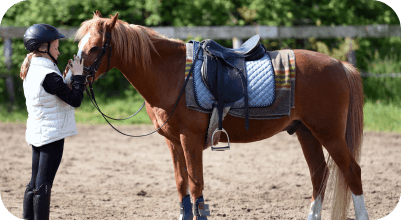 Equine 
Buffalo Veterinary Clinic is proud to provide a wide range of skilled veterinary care for your horse, including reproduction services.

In addition to routine wellness and preventative care, we offer:
Vaccinations including rabies, West Nile virus, tetanus, rhinopneumonitis (herpes), equine influenza, strangles
Pre-purchase exams
Coggins testing and export documentation
Lameness, including diagnosis and management of equine lameness, and joint injections
Ophthalmic exams
In-house radiology
Dentistry/floats
Surgery
Our equine reproductive services include ultrasound diagnostics, routine castration, and a doctor who has a special interest, additional training and knowledge in breeding mares with both fresh and frozen semen.
To learn more about our equine services or to schedule an appointment for your horse, call us at (307) 684-2851.