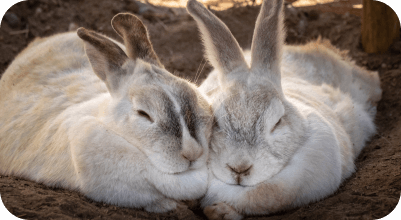 Exotic & Pocket Pets
Pocket Pets, Exotics and You
Pocket pets and exotics deserve the best of care, just like other pet companions. At Buffalo Veterinary Clinic, we're happy to see rabbits, hamsters and other pocket pets, too. These little buddies are fun companions, but they require regular care and attention to be healthy. They can also carry disease, so you must be aware of proper handling and hygiene.
Many of these pets require a very particular environment to thrive, and it's important you have a veterinarian experienced in their care to help you.
Bringing Your Small Pet to the Vet
We know that coming to the vet can be a stressful experience for our patients, particularly exotics and pocket pets. We're very sensitive to this, and we will do whatever we can to reduce stress during your visit.
If possible, plan to bring your pet to us in its regular enclosure. Don't clean it before coming in—that way your pet will be surrounded by familiar smells. The enclosure will also retain samples for diagnostic testing, if needed to better evaluate your pet.
We will conduct physical examinations and can offer nutritional and environmental enrichment counseling tailored to the unique needs of your little one. If you have a pocket pet or exotic, call us at (307) 684-2851 to make an appointment.